How to use Google Chat spaces in-line threading
This week's edition of tips and tricks from our Google Workspace maestro highlights a much anticipated new aspect in Google Chat, in-line threading within Spaces. Previously users collaborating inside a Google Space would organize different subjects being discussed using the organized by-conversation topic feature (see example below), which for the time being, will continue to work for preexisting Spaces.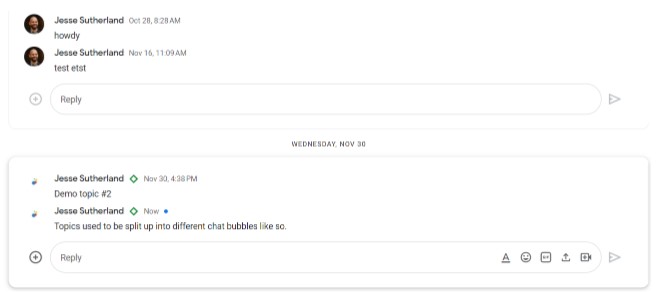 However, in-line threading is now available in any newly created Spaces moving forward, as conversation by topic is no longer an option. Eventually, legacy Spaces will be migrated over entirely.
How to reply to a message as an in-line thread?
When taking a conversation to an in-line thread, simply hover over the conversation, and select the reply in thread button.


Clicking on the Reply in thread button will open the thread directly adjacent to the main conversation in the Space.
Why should you be excited about the in-line threaded experience?
Users have spoken, and the developers have listened, focusing on making the preferred method of in-line threading the new norm for group work. Before in-line threading within Spaces, conversations by topic quickly grew segmented and would require lots of manual work to locate topics and keep them at the forefront of your work in a Space. From now on, leveraging in-line threading will keep the main channel more fluid and allow in-depth discussion to occur separately in the thread and not clog up the primary channel. Additionally, switching to this new form for conversation flow will provide further benefits:
Flexibility: Following threads allows you to stay up-to-date on what is taking place while also being able to jump in and out of the thread as needed. Also, you can unfollow a thread on demand.
Improved Coordination: With a cleaner look and smoother user experience, threads allow you to separate your conversations clearly without congesting the main channel. On top of that, it provides an environment where sharing with teammates is much easier.
Enriched Context: Moving to in-line threaded conversations allows for a more focused Space structure. The previous organized-by-topic setting required more time to skim the conversation to assess what was being discussed versus the new in-line thread display streamlining the thread topic.
What are the best practices when using threaded messages?
Establishing Space Standards: When it comes to getting the most out of this new feature, first and foremost, establishing criteria for when to take things to a thread is supremely helpful to establish a repeatable workflow. For any Space manager, when creating a Space, including guidelines in the Space description or attaching a ground rules document in the files tab of the Space should be your first step.
Leveraging Search: Going hand in hand with the way you name your Spaces and discuss projects in the main channel, this will make finding relevant conversations effortless. Encouraging standards for using keywords in a Space when discussing projects and initiatives will expedite the search process.
Following Relevant Threads: Ensuring you are updated on all the critical conversations you are tracking begins with simply following the thread. Not only will this provide clarity any time there are updates in a thread, but it will also automate the process for you.
What will happen to my older Spaces that don't have in-line threading enabled?
As mentioned, any Spaces created before 3/13 will continue to work as they always have with the organize-by-topic setting in place. The Workspace team has yet to announce a hard date for when they will move those Spaces over to the new in-line thread system, which is tentatively expected to take place sometime later this year. Maximize the potential with the setup going forward with your newly created Spaces, and enjoy the upgrade!
Don't be shy if you need additional training or assistance navigating Google WorkSpace. Drop us a line today.