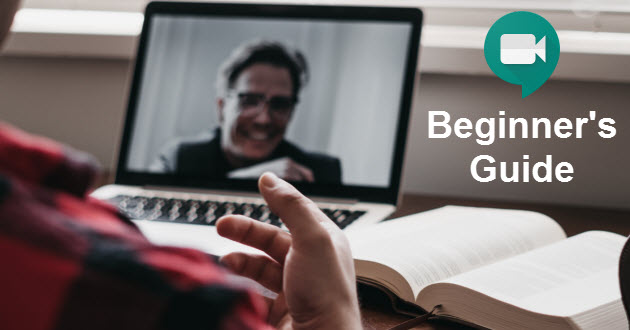 Online video conferences are becoming more and more common as the times change and more businesses embrace a distributed workforce.
If you're new to video conferencing (or just new to Google Meet), it's a good idea to know how to host or participate in your virtual meeting, sales pitch, or webinar.
Google Meet is one of the leading contenders when it comes to online video conferencing. It is affordable, easy to use, and works with many integrations for other Google Services. But perhaps most importantly, Meet offers users a level of security that they can't get with many other video conferencing apps (I'm looking at you, Zoom).
In this Google Meet Guide for beginners, we will be introducing you to everything there is to know about Google Meet including pricing, features, and how to use this video calling app.
What's Offered in Google Meet
Before discussing how to use the service, it is important to understand Google Meet in terms of its different product tiers (all of which are free through the end of September 2020 - one of the ways Google is helping businesses during the pandemic.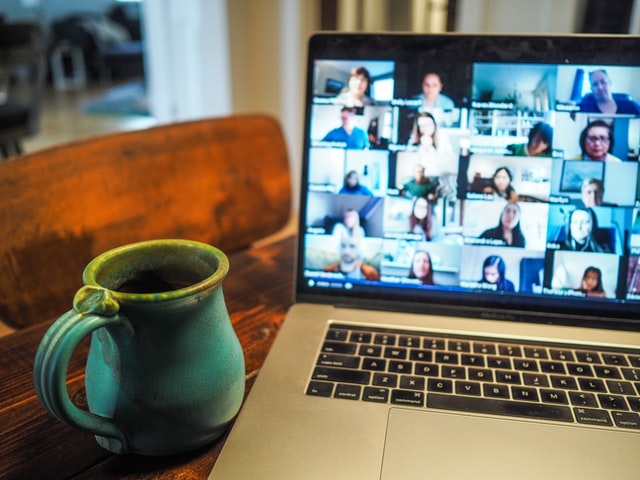 Google Meet Basic
The free version of Google Meet allows users up to 60 minutes per session at a time (expanded to up to 24 hours through the end of September 2020), with a maximum of 100 participants in the room. All features available with the Basic tier are available in the Business and Enterprise Essentials packages. These features include:
Use Meet from a browser,
Send invites to external participants,
Mobile apps,
Live English subtitles,
Screen sharing, and
Adjustable layouts.
Google Meet Business
The G Suite Essentials pricing package starts at $10 per user per month. Under this package, Google Meet can support a single conference for up to 300 hours with a maximum of 150 participants in the room.
Like the free version, users can also enjoy an unlimited amount of sessions. Aside from all the features in the Free version, with G Suite Essentials, users have access to both domestic and international dial-in phone numbers.
Google Meet Enterprise
The G Suite Enterprise Essentials pricing package can be further personalized for larger businesses, therefore the exact price varies.
With this package, Google Meet supports conferences for up to 300 hours with a maximum of 250 participants in the room. You'll also enjoy an unlimited amount of sessions so anyone in your corporation can have a Meet call or conference, any time.
Under this package, live streaming in-domain can be supported with a maximum of 100,000 viewers. In addition to all features from the Free and Essentials package, Google Meet for Enterprise offers Google drive access, and intelligent noise canceling.
Google Meet Features & Integrations
Google Meet has a variety of different features and integrations that allow conferences to be more productive. Being familiar with them brings you one step closer to a successful remote video conference. I'll go over the most important ones here.
Integrations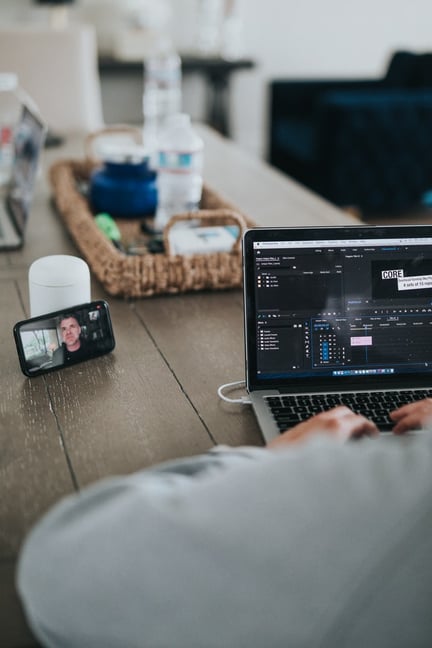 Integrations are features that are accessible through different Google services. Knowing how to use the different integrations will allow you to schedule your meetings and operate them more efficiently.
Google Calendar
Since Google Meet is one of the services provided within G Suite, conferences can be made and scheduled through Google Calendar.
With this integration, simply open Google Calendar and input the necessary information such as meeting date, time, and who is invited to attend. One feature of Google Calendar is that you can send invites for your colleagues to verify their availability, which saves a lot of time. Google Calendar will also send you alerts as early as 2 weeks before the scheduled meeting so you never miss a video call.
Gmail
Google Meet is also easily accessible through your standard Gmail account. Log into Gmail and you'll have access to active meet rooms that you have been invited to. Joining is just a matter of clicking into the room. Of course, you can also send invite links through Gmail (just like Calendar).
Features
Aside from integrations, Google Meet has many features that can be used to make your meeting run more smoothly. Some are pretty standard across video conferencing platforms, but Google Meet executes those better (in my view).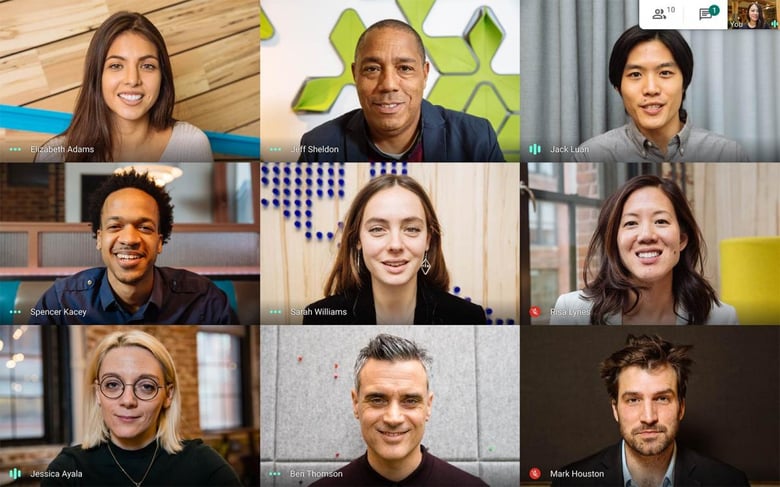 Here are a few of my favorite features of Google Meet:
Screen Sharing
Google Meet allows one member at a time to share their screen, usually this is reserved for the host to present anything they have prepared for the presentation.
This is great for meeting reports, documents, online lessons, or webinars.
Google Meet has encrypted privacy features that make sure anything shared is secured and unavailable to uninvited participants.
Screen Recording
Google Meet allows users to record meetings. This is an amazing feature for a couple of reasons.
First, those who were not able to attend the meeting will have an easy time getting on the same page with the rest of the team - the recording will be available to them right after the meeting wraps up.
Second, there's no need to take contemporaneous notes or minutes during the meeting. You can focus on engaging and brainstorming with your team and what you decide will be recorded.
Finally, if you record a sales pitch or presentation about your product or service, you can then leverage that as an evergreen sales webinar, freeing up your sales team to close deals rather than pitch.
Recorded meetings can be saved and uploaded to Google Drive, storage limits depend on what type of Google account you have (free or G Suite).
Live Closed Captioning
Live Closed Captioning is a great feature that supports inclusivity for those who are hard of hearing. Captions are live as the speaker talks and certain speakers can be pinned or highlighted to add emphasis on who is speaking and what they are saying. This feature is one of the most underrated parts of Google Meet, and it's one of my favorites.
Call In Options
Call-in options are available for those who are not able to join the video chat. This is an option free with Google Meet (other services offer this feature with a cost), which is a huge plus. Google Meet allows both domestic and international phone numbers to call in with the call in option.
With remote and mobile teams where access to a computer may not always be possible, this option allows every team member to participate from anywhere in the world.
Get your FREE Remote Work Success Guide

Could you use more tips and tools to support and empower your distributed workforce?

In this 5-step guide, you'll uncover some of my top tips to add value to your remote team TODAY.
How to Use Google Meet
Now that we have covered the basics such as pricing, integrations,and special features, here is a simple step-by-step guide on how to successfully conduct a Google Meet(ing).
1. Log into Google Meet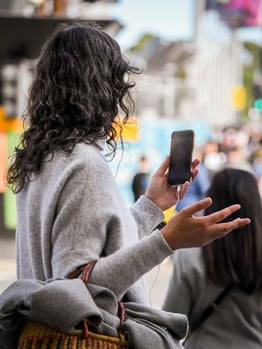 While Google Meet is free for everyone to use, keep note that only those with Google Meet accounts are able to host and start Google Meet conferences. This can be done by simply clicking the Google Meet icon or typing in meet.google.com into the browser.
2. Start a Meeting
Once you are logged in, all you have to do is select the "start a meeting" option if you are starting a meeting, or "join a meeting" if you are joining a meeting. If you are starting a meeting, you will need to name your meeting room.
3. Prepare Meeting Room
Once you have named your meeting room, you will then need to prepare your meeting room. This can be done by allowing camera and microphone permissions, and setting up any presentations you have prepared for the meeting to be screen shared.
This should go without saying, but take some time to make sure your camera is positioned well and that there's adequate lighting in your room before the meeting begins. Also, make sure there's nothing on the screen that you'll be sharing that is personal, private, or which you don't want to be seen.
4. Invite Members
This is the last step and can also be followed if you are an invited member to a Google Meet. To invite members you will receive a link that is specific to your Meet room and all you have to do is send it to the invited participants.
If you are a participant, all you have to do is click the link - anyone can join with a link, but the host has control over who can and cannot enter the chat room.
Factors to Consider
While setting up, joining, and conducting a Google Meet is very easy and secure, there are still some factors to consider in terms of cyber security and accessibility.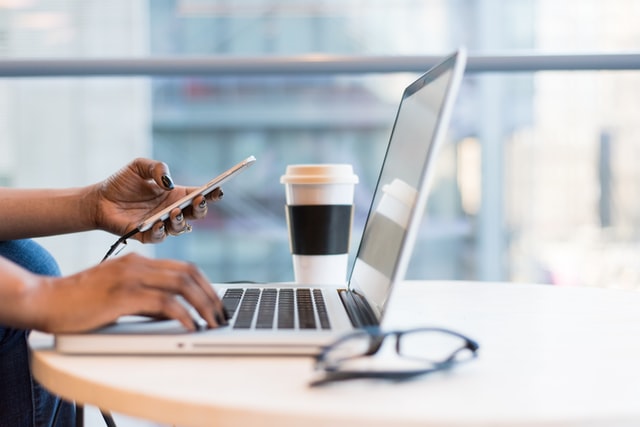 Privacy
While Google does a good job maintaining security and keeping unwanted participants out, it is important that you uphold your privacy rights in terms of items shared in Google Meets. Regulations such as HIPAA or other non disclosure agreements are completely in the hands of the participants and there is no guarantee that Google has jurisdiction over such materials.
Apps
Google Meet has a mobile app (iOS / Android) wherein you can also access chat rooms and video conferences and get alerts from your phone.
Using Google Meet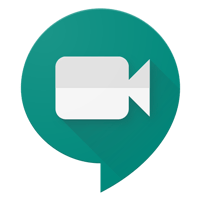 All in all, Google Meet is a great platform to use for conducting remote video conferences. The platform is more affordable than its competitors, offers great free features, is secure, and is overall very easy to use and navigate. Google is the king of creating user-friendly productivity software, and Meet is no exception.
With G Suite, everything is in one place and all of your business's productivity apps dovetail with one another. Google Meet allows you the integrations to get the most out of a G Suite subscription.