Best Google Workspace Marketplace Apps for Productivity
The Google Workspace Marketplace has become a center for all things business. Whether you need help with marketing, sales, or communication, Google Workspace has a solution. Productivity has always been an important focus in the workplace, and when it comes to productivity apps, Google Workspace delivers.
In this article we'll highlight some of our favorite apps on the Google Workspace Marketplace which can accelerate your team's productivity.
Lucidchart Diagrams

With an average of a 4.4 star rating from 5,523 people, this app has become one of the highest rated productivity tools on Google Workspace today.
This visual productivity platform allows users to collaborate in real time with tools such as wireframes, mockups, all types of diagrams, charts, ERDs and plenty of other features as well. It's top notch security, ability to publish, and easy compatibility with various other programs make it a top contender for productivity apps.
Wrike

For project management tools, Wrike is rated 4.4 stars by consumers, and has been used by over 4.6 million users.
This tool allows you to track your progress on a multitude of tasks and different projects at the same time. This tool can be used to manage other members of your team by assigning tasks and having good communication.
GQueues

This task manager was specifically designed for Google Workspace. Automatically it can sync with your calendar as well as mobile device.
This is wonderful for companies that need to have good management of appointments and desire an enhanced ability to account for time.
Asana

This is an extremely popular tool that was not created specifically for Google Workspace, but is available in the marketplace. Asana has a 4.1 star rating and is used by almost 3 million users.
You can use this Google Workspace Marketplace app to plan projects and manage all team members. You can also track progress from everyone in your team and do all of this from one board.
Google Apps Script

In terms of web development apps, this app is used by over 5 million users (which attests to its popularity and usefulness).
It was specifically designed for Google Workspace, and is a JavaScript cloud scripting language. G Scripts is an easy way to coordinate tasks across all of the Google products, but this app also allows coordination with third party services.
For developers this is a top notch app with a 4.3 / 5 rating.
Form Notifications

Many businesses have a need to create and manage email notifications from form submissions. The Form Notification app was designed specifically for this purpose and it is a great solution for small businesses that receive information to book appointments, or for customers with questions.
This app has an average of a 4 star rating with over 6.4 million users.
Kanbanchi

For workers who are more visual, Kanbanchi is a Google Workspace Marketplace app that allows you to organize everything in the way that is visually appealing.
All to-do lists are turned into a visual flow. With over 2.8 million users and a 4.7 star rating, this popular marketplace app is loved by productive, visual Google Workspace workers.
By tracking your time spent on projects, this app allows you to boost productivity and manage not only your own projects but also those you are managing for your team.
Lumin

Many workers and businesses use both Google Drive as well as Gmail. By using Lumin, you can view and edit PDFs without ever having to download them.
This saves both time and cloud space, promoting productivity. Although the ratings are not incredibly high, at only 3.3 stars, there are still almost 600,000 users, and this app can be very useful for those who are short on storage space or time, which is why we decided to include it.
Kami

This app is one of the highest rating productivity apps in the Google Workspace Marketplace. For PDF and document annotation, this was rated by 12,000 users at 4.4 stars. 7.1 million people use this app (primarily in education and classroom situations).
Kami takes any document, even scanned PDFs, and allows you to type, draw, modify and enhance them to your liking.
For anyone who has attempted to edit a PDF and put in their own information with the clumsy Adobe interface, this Google Workspace app will be a dream solution. Kami is offered either through a free version, or as a paid Google Workspace for education version. It can be accessed through both a browser and an extension download, making it easy and accessible to use.
Let Us Develop a Custom Solution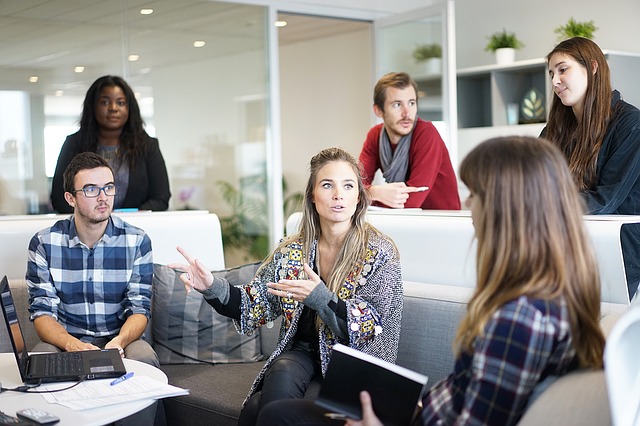 In terms of growth either within a company, education system, or even your daily life, productivity is key. By measuring productivity you can decide which areas need to be improved or built upon.
Google Workspace offers a variety of easily accessible and well built apps to measure productivity, but if you can't find exactly what you're looking for, Suitebriar (that's us) has experience designing and developing custom Google Workspace productivity apps for every kind of business.
Get in touch and one of our experts will be happy to discuss your project and how we can help you boost productivity across the enterprise.