Gmail vs Yahoo Mail
Which email client is best is a question many users debate. In recent years, Gmail has become the runaway market leader in the mail space, while Outlook has found success by tapping into enterprise users looking to integrate Microsoft services. However, did you know Yahoo is still pushing to be a viable alternative to Gmail?
Yes, for many users Yahoo represents a bygone age of the internet. A giant during the dotcom era, Yahoo fell from its pedestal in the 2000s as its user base left the sinking ship. That said, while the overall Yahoo environment took a hit, Yahoo Mail remains a popular tool. In fact, it is still the email client of choice for over 200 million users.
Sure, that still falls someway short of the 1.5 billion users Gmail enjoys, but Yahoo can be a viable alternative.
In the following post, I'll discuss the differences between Gmail and Yahoo Mail and highlight why Google's email service should remain your email client of choice.
Gmail vs Yahoo Mail Comparison
In my side-by-side comparison of Yahoo Mail and Gmail I'll look at the following aspects of each email platform:
User Interface
Personalization
Automatic Organization
Email Features
After reading this you should have a clear sense of which email client is right for you.
Let's get started.
User Interface
When you first glance at any email client, you may think they are all created equal. Certainly, most email inboxes look similar to each other. That's also true of the user interface (UI) on Gmail and Yahoo Mail, but a quick scratch below the surface shows there are differences.

On Gmail, users can select three different interface views:
Comfortable,
Compact, and
Cosy.
Admittedly, none of those names are clear about what the view will be, but essentially each offers a different density for the inbox. Over the years, Google has given Gmail consistent updates to keep the service fresh and functional.
The ability to customize your inbox is a big part of the Gmail experience.
Google has made several improvements to ensure individuals get the tools they need. For example, the inbox has become more dynamic in recent years. These days, emails are organized into types, such as Promotions, Updates, and Primary.
Yahoo has taken a similar approach to Google.
In 2017, a new Yahoo Mail design brought modern features and a sleek interface. Seeking a more minimal design, Yahoo chose to offer several layout options. In fact, users have more flexibility, with three layouts and three message spacing sizes.
However, in a head-to-head comparison of Gmail and Yahoo Mail, Gmail remains inherently more usable than Yahoo.
Personalization
These days, it's not good enough to simply have a functional email client that shows emails.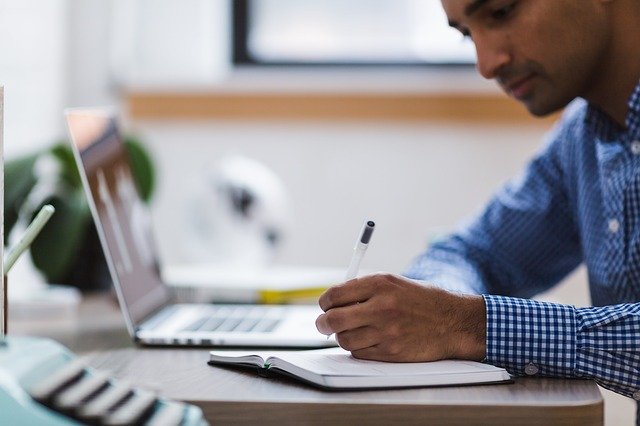 Users now want as many options as possible… they want a personal experience. Both Yahoo and Gmail offer an array of customizations that allow you to add a personal touch to your inbox.
Themes are a major part of the Google ecosystem, as anyone who uses the Chrome web browser will know. While Gmail does not supply an extensive catalog of themes like Chrome, users still enjoy a decent selection.
In Gmail follow the Settings > Themes > Set Theme path to see the list of available designs.
Google allows users to get really personal by uploading their own photo to serve as the theme background, which I think is pretty cool. It is also worth pointing out users can change the color of the Gmail interface.
Yahoo Mail is significantly more limited.
Users only have three theme options to choose from, Light, Medium, or Dark. These do little to truly customize the experience, but at least provide some visual changes when you need them.
Automatic Organization
When it comes to organizing the inbox, Gmail is head and shoulders above Yahoo Mail.
When using Yahoo, you will see a very traditional organization layout. For example, you have your inbox that display all emails together.
Gmail is different and automatically organizes emails into specific categories:
Primary:

Personal emails (the main inbox).
Social:

Messages and notifications for social media websites.
Promotions:

Sales and deals from websites, as well as marketing emails.
Updates:

Notifications, confirmations, and updates from services. For example, PayPal confirmations and website sing-up confirmations.
Forums:

Updates from discussion groups.
What's good about these organizational email inboxes is they de-clutter your main personal inbox. If you don't want to sift through marketing emails and service notifications, you can avoid them. Furthermore, the slick UI of Gmail means these categories are easily accessible through a tabbed interface.
Email Features
As you would expect, both Yahoo Mail and Gmail come with their fair share of interesting features. That said, Google's email app again remains the runaway winner in this regard, althought Yahoo Mail remains a solid alternative that gets the job done.
Email Filters
Users of Yahoo Mail can create filters that categorize incoming emails based on criteria such as sender, recipient, subject, or email body. When Yahoo detects these filtered mails, the service will automatically move them to a folder. This is definitely useful, but Gmail takes filtering to another level.
In fact, filters in Gmail are among the service's standout tools. You can filter with all the options available on Yahoo, but also filter for attachments, file sizes, and chat conversations.
Furthermore, you can star, label, and delete emails automatically through the filters.
Labels
This is another area where Gmail excels. When using the client, you can generate and edit color-coded labels and tags to allow incoming emails to be categorized under specific titles.
For example, emails can be tagged with Work, Personal, Blogs, or other choices. Sitting alongside automatic inboxes, this makes Gmail the go-to email service if organization is a primary need.
Related: Gmail Labels vs Folders
Yahoo Mail, not so much. Unfortunately, there is no labeling or tagging in the email client.
Mobile Email Apps
Of course, most people are accessing their email on smartphones these days, so how do Yahoo Mail and Gmail stack up on mobile?
As you probably expect, both services are available through their own applications on iOS and Android for free.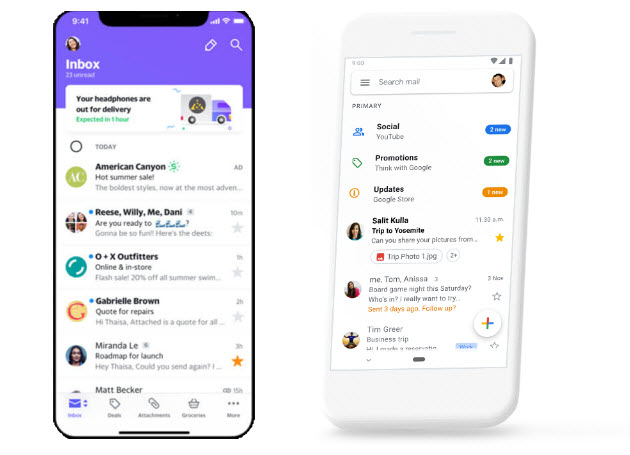 Both apps offer the same feature set you would get on the full desktop experience, while both are fully optimized for the small screen size. One interesting Yahoo Mail mobile tool is "Smart Views", which allows you to see a snapshot of documents, photos, and other file types.
Add-Ons and Extensions
One of the perks of using Gmail is the ability to tap into Google's wider marketplace.
The company runs the Google Play Store, which has over 1 million applications. Not all of these are available for Gmail, but you can integrate services like Trello, Zoom, Slack, and numerous independent extensions.
Alongside third-party extensions, Gmail is also fully integrated with Google's wider ecosystem. You can seamlessly move directly into YouTube, Maps, and G Suite when using Gmail.
Yahoo Mail does not offer any extensions.
So, Gmail or Yahoo Mail?
While Yahoo Mail has dramatically improved in recent years, it still has a long way to go to compete directly with Gmail, the world's most popular email application.
Google's service remains a gold standard for personal users, while also being a robust service for enterprise.
For business users, the professional version of Gmail which is included with G Suite licenses is a good choice.
Costing just $6 per month, this version of Gmail provides professional email domains, full security protection, and admin controls.