15 Essential Tools to Handle Your Small Business Software Needs
In these unprecedented and uncertain times, it's tougher than ever before for small businesses. Having the right software and tools to help you manage workflow and drive business growth is vital. Whether you're starting your own business, or looking to streamline, I thought I'd share what I consider to be 15 essential tools which will help you handle your small business software needs adeptly as we work to emerge stronger from the current pandemic.
I hope you find a few of these recommendations useful.
Freshbooks

Freshbooks is an Invoice and Accounting Software designed specifically to fit the needs of small businesses.
There are lots of options when it comes to invoicing and accounting software, but Freshbooks is one of my favorites because it allows businesses to track all their accounts in terms of invoicing, payments, expenses, and financial reports in one secure and easy to use dashboard.
The cloud based software also includes features that allow users to set up automated reminders, as well as easy access to online payments.
Freshbook Payments
A feature integrated with Freshbooks are Freshbook Payments which link into Freshbook Accounts to make the invoicing process much faster.
Both Freshbook and its extension, Freshbook Payments are readily available online and offer a 30 day free trial where users can enjoy their services and see if Freshbooks is right for you and your business.
Boomr

Boomr allows business owners to track employee hours, scheduling, and automatically calculates and generates reports for payroll.
If you run a small business, you know how important (and expensive) payroll services can be. Boomr is an affordable solution that is well suited to small business needs.
Boomr also offers a free trial to use their services, allowing you to "try it before you buy it."
With Boomr you have two modes of use (Standard or Business) to choose from. Both options can be billed either monthly or annually. Both plans include unlimited employee timesheets.

A Standard Boomr plan costs $5 per user per month, with a $20 base fee. Features include: mobile apps with GPS, overtime alerts, time off tracking, paid and unpaid break rules, alerts and reminders, payroll and invoicing, project and job tracking, integrations, and customer support.
A Business Boomr plan costs $9 per user per month with a $45 base fee and includes everything in the standard plan plus additional features. These additional features include expense tracking, advanced pay classification, DCAA complaint and audit trail, multi-state or country compliance, sorting employees by department, and a dedicated account manager.
It's a really well-built and affordable payroll app that you should take for a test drive.
Grammarly

Growing businesses need to collaborate with others and showcase what they have to offer. This involves a lot of writing in terms of business proposals, advertisements, and overall correspondence between other people and businesses.
And let's face it. The best salespeople and the best customer support reps are not always the best at spelling and grammar. Support these vital employees with an app that helps catch mistakes and typos, and offers suggestions to improve spelling, grammar, and sentence flow to improve communication across your enterprise with Grammarly.
Grammarly is an online writing assistance service that checks writing in terms of content, grammar, and plagiarism.
The best part of Grammarly is that it is free to try and free to use. The free version is accessible only on the internet as an extension for your web browser but you can upgrade to the Premium version for $12.50 per user per month under a Grammarly Business Premium package.
This includes access to the desktop app, and advanced grammar and plagiarism checking. Try the free version to see what you think!
Canva

No graphic designer? No problem.
Canva is a free graphic design platform that is available via browser and mobile app.
The platform offers a variety of different templates to choose from and alter as you please. Users can choose among different designs for marketing, invitations, resumes, business proposals, and more. Canva is free to use, or users and businesses can choose to upgrade to their premium plans: Pro and Enterprise.
Canva Pro is best suited for small teams and costs $9.95 per user per month and is billed annually. Features include access to all templates and designs from the Free version, as well as more access to custom templates, designs, and logos.
Canva Enterprise is suited for all business types who want to get the most out of the platform. Enterprise costs $30 per user per month and is billed annually. Features include access to all the same features as Canva Pro plus personalized brand kits and workflow practices such as approval pendings and single user sign on.
Fiverr

Fiverr is a freelancing website for businesses looking to outsource their work.
Not everything can be self taught and hiring freelancers can ensure a more professional edge to a project, while helping out freelancers at the same time.
Let's be honest - all businesses have IT, coding, graphic design, and other projects that they need completed a few times per year. Rather than hiring an expensive local agency, open your project up to the global market and find a qualified professional to complete ad hoc projects as you need the help.
Fiverr has a whole community of freelancers specializing in copywriting, graphic design, virtual assistance, and more. This is great for one time projects and serves as an alternative to having to subscribe monthly to specific services.
There are other platforms (UpWork is another favorite of mine) that you can use, but for brand new users, Fiverr.com is a great place to start.
Adobe Sign

As technology continues to advance, documents can now be sent, viewed, and signed electronically.
Adobe Sign (formerly Adobe Echosign) allows business owners to stay connected and sign documents from anywhere in the world. This is great for sole proprietors, realtors, and other businesses that heavily depend upon contracts.
Adobe Sign can be purchased on a monthly billing period of $24.99, packaged with Adobe Acrobat Pro. It's a great value if you find that you're regularly needing to sign and send contracts, or request signatures from customers and clients.
Docusign is another popular option for this service.
Wix

Wix is a website creating platform that allows business owners to customize their websites with no technical knowledge.
It is free to use, but can also be upgraded to premium and business owners can even gain access to their own domains.
There are 3 different plans under Business and eCommerce ranging from pricing plans of as low as $17 monthly, to $35 monthly for Business VIP.
Wix is one of the most popular website builders for solo-preneurs and small businesses who want to set up and maintain a website on the cheap.
Squarespace

Similar to Wix, Squarespace is another content management system (CMS) and website design platform.
Squarespace is more directed towards small businesses that are retail shops and want to integrate with a point of sale system.
Squarespace offers tools such as marketing templates, and even brand-building tools such as email marketing. Users can create a domain or transfer a domain you alread own to enjoy squarespace features without having to start over from scratch.
Google Workpace

Business productivity tools like those available within Google Workpace are great for small businesses as all tools are packaged, ready, and easy to use and manage under a single administrator account.
Google Workpace offers the majority of Google services at monthly pricing plans for less than $10 per user, per month.
All plans offer programs such as Gmail for business, Google Calendar, Google Drive, Google Hangouts, Google Docs, Sheets, Slides, Forms and Sites. The amount of storage for each service depends on the pricing plan, and 5+ user Business and Enterprise licenses unlock unlimited cloud storage (an amazing value you can't find anywhere else on the market).
Recommended: Learn More About Google Workpace for Small Business
Even without a Google Workpace license, most Google services are still accessible and can be very useful to small business owners. Here are a few:
Google Calendar

Google Calendar is extremely powerful (and user-friendly), and while the upgraded features and integrations within Google Workpace are great, it's free to use for small businesses looking to cut costs.
With Google Calendar, users can create collaborative calendars wherein they can schedule events and have access to collaborator availability at the same time.
Google Calendar follows a straight forward format that can also be customized to fit company needs. Events can be scheduled ahead of time and set with reminders regardless of how far into the future you'd like to schedule your team.
Calendars are available with offline work, and require an internet connection to share. With that being said, Google Calendar is accessible through any browser by using your Google account, and there's a great app for the phone.
You can read our full Google Calendar guide to learn more.
Google Drive

Every business needs secure cloud storage, and data security these days is paramount.
With Google Drive company files are accessible to all employees. Enjoy 15GB of storage for free and all data can be accessed through any browser with your Google account. This storage applies to all other Google services, and can be upgraded using the Google Workpace Business plan which gives access to unlimited drive storage.
Google Drive allows small businesses the tools needed to organize and overlook activity within the drive. Additionally, Google uses forms of artificial intelligence in order to boost productivity and filter out most to least used files and even protect from spam.
You can enjoy Google Drive as part of Google Workpace, but if you're solely looking for a cloud storage solution for your small business, try Drive Enterprise.
Google Docs

Google Docs is free to use on its own and files are saved automatically in your free 15GB of Google Drive storage without a Google Workpace license.
Docs is a service that allows users to create and edit documents from anywhere, any browser, and even work and save offline without using sharing permissions.
This is a great way for businesses to ensure that their documents are not going anywhere and are constantly accessible to users. Employees can access their files using their Google account and quickly share those files as needed.
With Google Docs, users can control sharing permissions and allow others to view, edit, and comment on documents. Multiple users can even work on a single document at the same time and watch the work of their collaborators happen in real time.
Docs is a powerful collaboration tool for small businesses, made even more powerful when used as part of Google Workpace. Read our quick-start guide to Google Docs to learn more.
Google Voice

Google Voice is an online phone service (VoIP) provided by Google that integrates with Google Calendar and Google Hangouts.
Users of Google Voice find this service to be a great alternative to the traditional landline and small businesses enjoy the up to date features of Google Voice such as call recording, voicemail transcription, call forwarding, and more.
Google Voice has its own pricing plans independent from Google Workpace. Plans include Starter, Standard, and Premier for $10, $20, and $30 per user per month.
You can learn more about Google Voice and what each pricing plan offers you right here.
Google Ads

Google Ads (formerly Google Adwords) is a way to get your business noticed in Google without the time and technical know-how required to rank organically in Google Search results.
Google is the most used search engine in the world, and Google Ads is a great way to market your business directly to your customers where they already are online.
Google Ads typically works on a CPC (Cost per Click) basis. You can bid on specific keywords, like "bakery in City" or set broader search terms with geo-fencing.
Control costs by setting daily budgets, and the maximum amount you want to pay for a user to click through from your ad to your website.
This is a great way for small businesses to advertise their services on a platform that they know is widely used.
Google Ads have been known to help businesses find the right customers, and gain more attention in terms of website visits, calls, and even in store visits. It's pretty user friendly, and if you need help, a Google rep is only a phone call away.
Leverage the Right Tech for Your Small Business Software Needs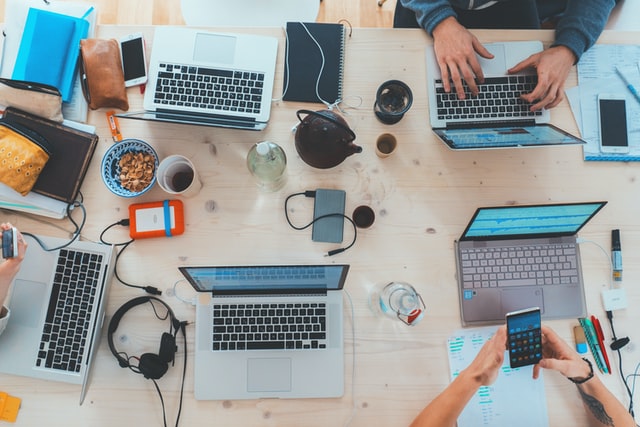 A little help never hurt ... especially for small and growing businesses.
With the help of all the tools mentioned above, a lot of time, energy, and money can be saved along the way and your small business software needs can be satisfied without paying for a bloated office suite that only offers some of the tools you need (I'm looking at you, Microsoft!).
The best part about all the apps and software tools mentioned in this article, is that almost all of them have free versions, and/or free trials that allow you to try it before you buy it and decide whether or not you are ready to commit to that service for your business.
Also among all these tools are the options to integrate with one another in order to optimize productivity.
With determination and the right software tools at your disposal, your small business is positioned for success, even in the most challenging of times.