Google Workspace Tips & Tricks for Small Business
Google Workspace (formerly named Google Apps for Work) can improve your processes, encourage your team to collaborate, and improve data security at your small business.
But there are a number of very useful features that many small businesses using Google Workspace don't leverage … because they aren't aware of them.
In this article we'll provide a list of helpful Google Workspace Tips and Tricks for small businesses that you can begin using to get the most out of Google's suite of business apps.
Check Google Docs Activity

While you probably already know about how easy it is to collaborate in Docs, you may have missed that Google added a new feature in Google Workspace for Docs, Sheets and Slides.
This is called the "Activity" feature, and it can be enabled in your Admin console. It allows you to see when people last checked a document to make edits, leave comments, or approve the content … allowing you to quickly scan your docs to know if they're ready for you to take the next step and move forward.
This is especially helpful for longer documents, as it can save you from having to scan though the entire Google Doc to check for changes. It's a feature you wouldn't have in Microsoft Word.
Combine Data Across Multiple Spreadsheets

Our guess is you're already using Google Sheets to crush your small business data, but you may not have known about the IMPORTRANGE feature which allows you to pull data into a spreadsheet from another Google Sheet.
This feature is available to Google Workspace users and will allow you to import any range of data from one spreadsheet into another. To take advantage of this, simply type =IMPORTRANGE into a cell in Google sheets, and you'll be prompted to fill in the spreadsheet key (the sequence of letters and numbers that follows /spreadsheets/d/ in the URL) and then the range of data you'd like to import.
Related: Google Workspace Security Best Practices
Use the Jamboard App ... Even If You Don't Buy the Board
You may have heard about the high-tech whiteboard Google developed called Jamboard. It's very cool, but also very expensive. Most small businesses can think of something better to drop $5,000 on.
But what you may not have realized is the Jampboard app is free, and that's something you can use and collaborate with as a Google Workspace user, even if you don't own the whiteboard. You can download that app to try it out here.
Use the New Business Dashboard
Google recently announced the new Work Insights dashboard, and it's an amazing tool that allows you to gain insights for adoption and use of Google Workspace technology at your organization.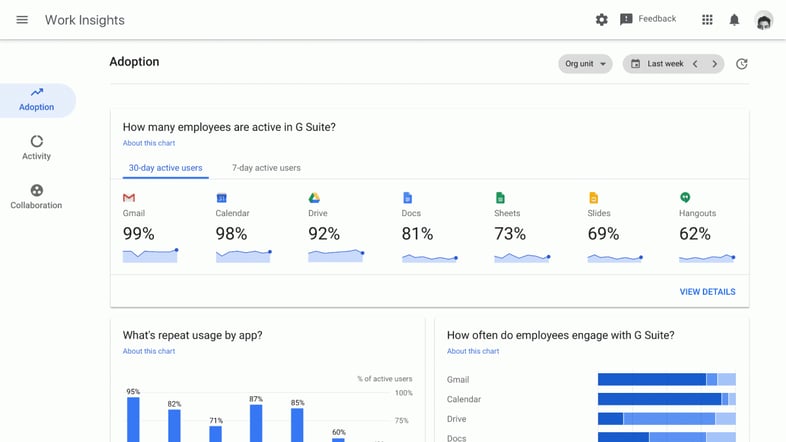 This can help you identify areas where Google Workspace's apps are being used to improve collaboration and efficiency, and other areas where departments aren't leveraging Google Workspace as much as they could (and may need more training or resources).
You can quickly see how individuals or departments at your small business are using Gmail, Docs, Sheets, and other apps within Google Workspace, which is something you just can't do with any other suite of office productivity tools. Try it out, you'll love it!
Related: Google Workspace Workflow Tips to Grow Your Business
Closed Captioning in Google Slides

Slides (Google's answer to PowerPoint from Microsoft), can really help a small business to communicate with clients or put together online or on-site presentations.
But did you know that you can make your business presentations more accessible by adding closed captioning? When you present to a group, speak into a microphone and Slides will type what you're saying automatically, allowing the text to appear on the slide in real time!
This feature can be enabled when you click on the "Present" option and then click "Closed Captioning" (at the bottom of the screen).
Next Level Business Branding

Brand identity is important, and insuring that all of your business communications leverage the expensive logo design you've already paid for and look polished is crucial to presenting your business in the right light to clients and your community.
Hire a graphic designer to create on-brand design templates for your official business communications, and save those templates in Drive. This way every one of your employees has access to these well-designed (and approved) branded templates to use for their official communications.
Use Google Forms to Get Better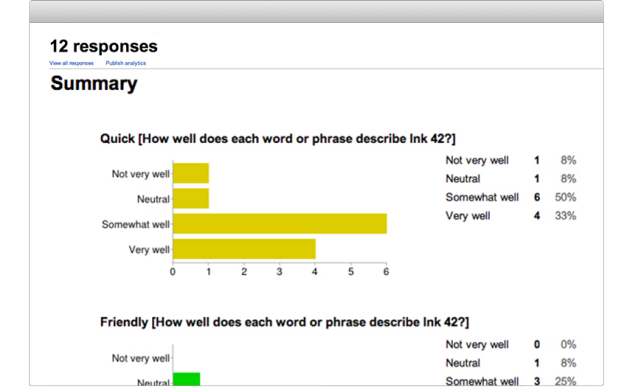 Google forms is a powerful tool to quickly gain insights from customers or your employees. Gather and analyze data efficiently by creating simple surveys and get immediate, actionable feedback from your small business customers.
You can also use Google Forms to collect anonymous feedback from your employees to take the temperature of how you're doing, where you could improve as a boss, and what types of tools and training your employees would value most to decide where to re-invest profits.
Browse the Google Workspace Marketplace

While Google Workspace offers small businesses a robust set of office productivity products, there's always room for improvement, and developers are regularly creating excellent apps which are available in the Google Workspace Marketplace.
We recommend browsing these third-party apps and tools periodically to see if there's something that may work for your business. You can use apps like Zoom, Xero, Google Analytics, or Asana to link data to your Google Workspace account and integrate that data with your apps like Sheets, Google Calendar, and more.
And if there's a custom application you'd like developed? Suitebriar can help with that.
Speed Up Communication with Smart Compose
You know how auto-complete works on your phone, but did you know that a similar feature is available within Gmail?
Smart Compose is a predictive writing suggestion feature allowing Gmail to autocomplete your email as you compose it.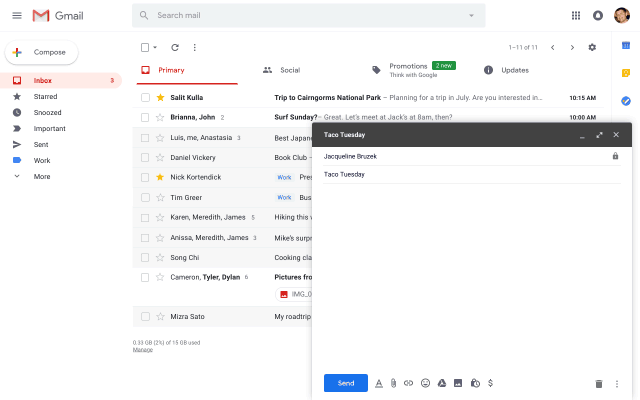 You can enable or disable Smart Compose in your Gmail general settings, and when enabled it will give users the option to hit tab and accept autocomplete suggestions based on how you've written past emails. It's a great feature that can save your team some time.
Which Google Workspace Tips and Tricks are Right For You?
These 9 Google Workspace tips and tricks are just the beginning. There's no limit to how you can leverage Google Workspace to improve collaboration, accelerate growth, and eliminate bottlenecks at your small business.
Remember, that if you want customized training at your small business to help your team get the most out of Google Workspace, Suitebriar, a Google Cloud Premier Partner, can deliver remote webinars, on-site training, and live support to help your small business grow with Google Workspace.