Google Workspace vs GoDaddy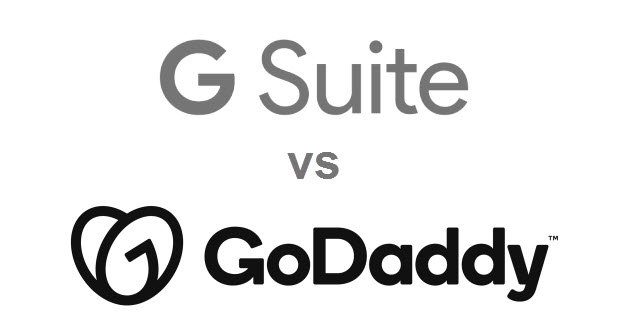 Whether you are trying to decide where to register your domain name, or you are thinking about switching where you host your website, you most likely will have come across GoDaddy and Google Workspace.
Known primarily as a domain host, GoDaddy does offer options for webmail, while Google Workspace is an extremely well known business suite that is almost incomparable in their offerings. Switching from GoDaddy to Google Workspace is simple, as is starting fresh and beginning to host your website at either business.
With a bit of background and investigation, you can decide which one might be best for you. To help with this, we created this Google Workspace vs GoDaddy comparison article which will allow you to make an informed decision.
History of GoDaddy and Google Workspace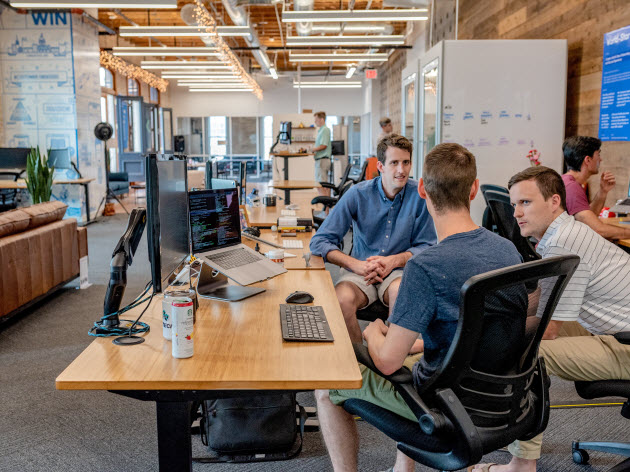 Let's start by introducing both companies, their origins, and how they grew to become large domain registrars:
GoDaddy
Beginning as solely a domain registrar, GoDaddy gained notoriety with their controversial ads which took the world by storm on many a Super Bowl Sunday.
They were the first site to register a domain name for an extremely low price, and many other domain name registrars have followed suit to stay competitive.
After acquiring millions of customers, they moved into the realm of web hosting services.
Google Workspace
When you compare GoDaddy to Google Workspace, Google's flagship office suite has always been not only a business email interface, but additionally has offered productivity apps such as Docs, Sheets, Slides and more to manage your business.
Google Workspace has always been accessible to Gmail users, and with a paid account you are able to add your own business ID and domain name to your email accounts, and you'll enjoy large (even unlimited) amounts of cloud storage space.
Today Google Workspace has emerged as a direct competitor with Microsoft Office, with most of its programs offering a cloud-based alternative to Powerpoint, Word, Excel and more. Currently Google Workspace runs the most successful email platform and office suite on the market, making it a popular choice for businesses and individual users alike.
GoDaddy vs Google Workspace Cost & Features

Features of GoDaddy Webmail
GoDaddy has two main options for webmail: Office365 Email and GoDaddy Webmail. We'll break down both options for you here:
Within the in house GoDaddy Webmail, there are two price options:
Startup option:

$4.99/user per month and comes with 10GB of email storage,
Team option:

$5.99/user per month and give you 25GB of email storage.
For both of these options you are required to pay one year in advance, and you link an already registered domain, or pay extra for domain registration with GoDaddy. They do have a webmail that you can use on a mobile device with calendar, contacts and tasks, but you must pay extra for IMAP. When you compare GoDaddy to Google Workspace (more on that in a moment) you'll quickly see why Google Workspace is preferable in terms of cost.
If you choose to use Office 365 Email by GoDaddy, the price tag is much higher for purchasing from GoDaddy than if you purchase directly from Microsoft itself. There are four options for you to choose from:
Email Essentials:

$3.66/user per month for the first year, and then $4.99/user per month when you renew. Comes with 5GB of cloud storage.
Email Plus:

$4.92/user per month, then $5.99/user per month when you renew. This option too comes with only 5GB of cloud storage.
Online Essentials:

$8.66/user per month, $9.99/user per month for renewing. Once again this plan only contains 5GB of cloud storage.
Business Premium:

$12.32/user per month, and $14.99/user per month when you renew. Office365 applications are also included with this plan only, such as Microsoft Word, Excel, PowerPoint, and One Note. Comes with 50GB of cloud storage, which is a huge jump from any other plan.
The issue with Office365 is that since there are so many options, you risk overpaying or receiving less than you will need. The main reason one would purchase this webmail through GoDaddy versus Microsoft directly, is for the support that GoDaddy provides, but remember ... IMAP support does have an extra cost, and there is no advanced spam protection.
Recommended: Google Workspace vs Office 365 In-Depth Comparison

Features of Google Workspace
Google Workspace is less complicated, with a simple three-plan option to let entrepreneurs, businesses and individual users quickly choose the best plan to fit their needs. You pay month-to-month and are not locked into annual contracts, giving small businesses flexibility to accommodate a workforce that grows and shrinks seasonally.
Basic:

$6 per user per month, and 30GB of cloud space.
Business:

$12 per user per month, with 1TB of cloud space, or unlimited after 5 users.
Enterprise:

$25 per user per month, with the same amount of cloud space as the business option.
There are no hidden fees or need to pay upfront with Google Workspace, you can pay monthly and cancel anytime.
For each plan you receive an email ID under your domain name, and the ability to use the Gmail mobile app. Your cloud space is available for Google Drive or with your email, and you receive access to all apps including Google Docs, Sheets, Slides, Keep, Hangouts, Chat, Sites, and other third party apps available on the Google Workspace Marketplace.
Other great features of Google Workspace's Business and Enterprise options include: low-code app development, advanced email search and archiving.
In the enterprise plan there is eDiscovery for emails, chats, and files, and included in all plans is secured team messaging, shared calendars, real-time online collaboration, video and voice conferencing. Both POP 3 and IMAP support is included, which makes it a very well rounded option and a great value when you compare Google Workspace to GoDaddy.
Related: Google Workspace vs Dropbox - Cloud Storage Showdown
GoDaddy to Google Workspace Migration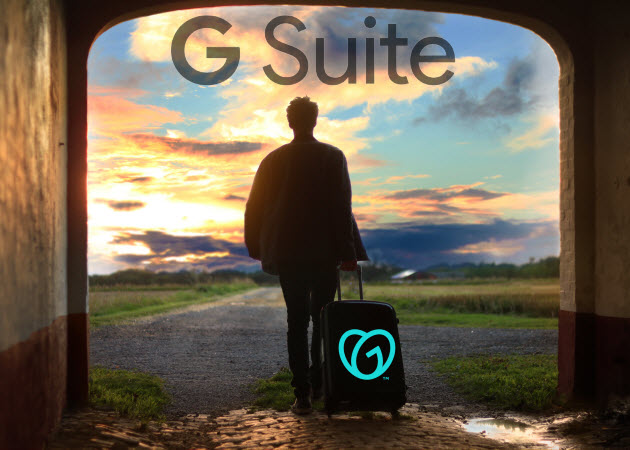 If you are one of the 714,891 GoDaddy websites who is interested in joining the 2,656,690 websites on Google, then you will need to decide if you want to migrate.
Google Workspace has many offerings and attracts many clients to their Business and Enterprise licenses with unlimited cloud storage space. I
f you compare market share between GoDaddy and Google Workspace, Google Workspace is leading in 158 countries, while GoDaddy is leading in none.
But how do you decide which service is best for you and your business? Well one main issue with GoDaddy webmail is that it is exactly and only that ... webmail. If you only need webmail, and hate Google for some reason, then GoDaddy would probably be the choice for you, but Gmail is the most popular email app in the world for a reason.
Although Google Workspace is technically (and only slightly) more expensive, you get more with Google Workspace. GoDaddy offers you only the basics, and ends up being very expensive for what you are receiving if you compare the two apples to apples.
GoDaddy is a great option for hosting a simple website, or purchasing a domain name that you might want to hold on to for a few years. But you will eventually either need, or want to purchase offerings for your business, (if you are using GoDaddy) that are already included in Google Workspace for no extra cost. So if you need a webmail for your business, whether just starting out, or upgrading your venture, you will need more than the offerings from GoDaddy, and Google Workspace is probably the right choice for you.