Teleconferencing Etiquette
The Do´s and Don'ts of Virtual Meetings
Whether you usually work from home, or are embracing the "new normal" of business conduct, virtual meetings are now more common than ever.
And while working from the comfort of your own home may seem like a luxury at first, it is still important to follow the codes of conduct when it comes to workplace etiquette -- even when working from home.
In today's article, I'll be talking about everything there is to know about teleconferencing etiquette to help you have a professional video call and make a great impression in your virtual meeting. I'll explore what a teleconference is, why it's a vital part of today's business environment, and share my top do's and don'ts for tackling virtual meetings.
Let's get started!
Teleconferencing: What is it?
Most of us have encountered a teleconference at one point or another, especially during more recent times. But there are a few different ways to hold a teleconference, and different ways to ensure the success of the meeting.
For starters, what exactly is a teleconference?
Generally, a teleconference refers to an interaction or collaboration of individuals over online resources. But don't be confused, because most conference applications have dial in options where you can join from your landline or cellphone number.
And in today's world where Google Workspace (formerly G Suite) and other online tools make collaboration easy in a variety of forms, video calls are just one tool in the arsenal of distributed teams.
The Importance of Virtual Meetings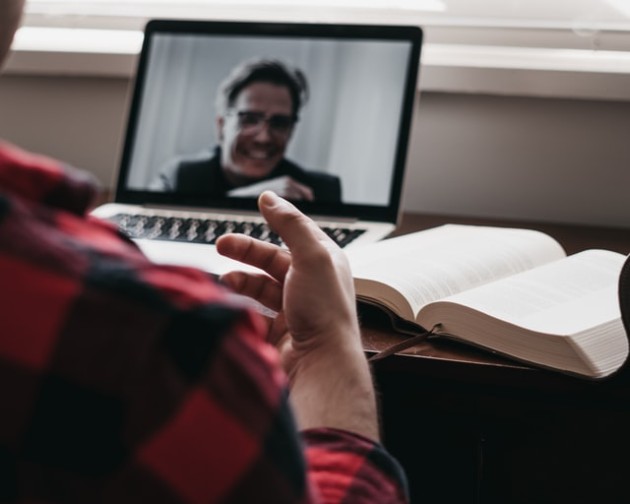 Is it really necessary to hold a virtual meeting? Can't everything be summed up and sent in an email? Generally, yes. Virtual meetings are very important to have during these times and for more reasons than one. Here are a few:
Detailed Matters
While modern day technology and the internet allows us the luxury of sending instant messages, there are some matters that really need special attention.
This is where video calls and teleconferencing comes in.
Setting a teleconference allows the host to put emphasis on the points that need it. Tone, body language, and facial expressions are not aspects that can be detected via email, and that's why platforms like Google Meet are critical to the successful communication of distributed teams.
Collaboration
Along the same lines of emphasis, virtual meetings are vital to collaborative work.
Group messaging is not always effective, especially when multiple members are typing and sending messages at the same time, or when not everybody is online at the same time.
Holding a virtual meeting allows for more clarity of points and lets team members actively engage and share their input in a way that minimizes miscommunications and other collaboration problems in the workplace.
Interaction
Working from home is not always a luxury and has its own set of challenges. The main challenge is in regards to motivation and productivity.
Sure, being able to do work in your pajamas is fun at first but as the day goes on, jumping back in bed becomes more and more tempting.
Taking part in virtual meetings is a great way to imitate the motions of an actual office meeting by getting dressed, seeing, and speaking to your colleagues.
A little motivation goes a long way.
Virtual Meeting Etiquette
When it comes to virtual meetings, there are hosts, and attendees. Each has a different set of rules and things to be cautious about.
However, the following guidelines are things that everyone should be doing:
Check Your Connection
There is nothing more frustrating than bad internet connection. Especially during an important video conference.
A lag in your connection can lead to you missing vital information due to choppy interference, or your video freezing at unflattering moments.
The best way to do this is by running a speed test 10 minutes before your scheduled meeting. There are lots of online speed tests that you can conduct on your computer free of charge (I like this one).
Background Noise
Just like in taking business calls, you will always want to make sure you are in a quiet environment. Nobody wants to hear screaming kids or loud televisions.
Taking your conference to the other room can make all the difference.
Background
Just like your background noise is important, your visual background is as well. Nobody wants to be distracted by the movement in the back, and you certainly do not want your colleagues to see your dirty laundry.
A plain background, away from glares and shadows is ideal. But with modern video conferencing applications, a virtual background is also an option. Just make sure that it is appropriate and not distracting, and if the unexpected happens (and it will), roll with it and take it in stride with a sense of humor like this guy:
Attire
Just like regular meeting attire, virtual meeting attire is no different.
Be prepared, and look presentable. Even if it is just from the waist up (thought there have been examples of wearing PJ bottoms backfiring).
At a minimum, put on a company t-shirt or a simple collared top. Going through the motions of getting ready for a meeting can also make you feel more comfortable to participate the way you would in the office, and it can also motivate you to take on the rest of the day.
Hosting a Meeting
As mentioned earlier, different roles in a meeting come with different guidelines to follow.
As a host, you will have different permissions and authority over what the participants can see and access.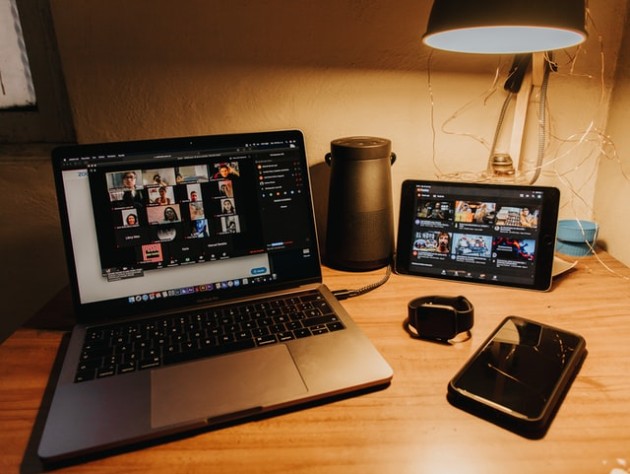 Here are a few things you will want to do:
Equipment
If you are hosting the meeting, you should be the most prepared. You will want to have your tools and equipment ready.
While most of our computers have microphones built in, you may still want to consider an external microphone. This can be one attached to your headset or even an entire unit.
A high quality microphone makes all the difference in sound quality, which is important if you are the main speaker.
Online Tools
Most conferencing apps have a variety of in app tools that you can use and share with participants. Get the most use out of these.
Using simple tools such as screen sharing and the blackboard option helps take the meeting to another dimension and keep all participants engaged. Having something to look at while listening to a presentation or pitch is a great way for your colleagues to understand all your points.
Preparing a simple slideshow with key points goes a long way.
Set an Agenda
Like a traditional meeting, you will want to set an agenda and stick to it. Best practice is to make the agenda available to your team members ahead of time so that they will know what to expect and can be prepared to contribute.
Make sure to stick with the agenda as much as possible to get the most use out of your meeting time.
Some conferencing apps have a time limit so an agenda is a good way to manage for that.
Record Your Meetings
Working from home does not necessarily mean that everyone will be available 24/7. Just like meeting minutes, you will want to keep a record for those who cannot attend.
Recording the meeting and having it available to reference at a later time is a great way to keep track of topics discussed and is a lifesaving option for those who were not able to attend or even for those who simply want to rewind and review key points and decisions that were made.
Participant Etiquette
Being an attendee in a teleconference does not mean you are cut from having your own responsibilities.
As an attendee, it is important to comply and show courtesy so that the meeting will go over smoothly.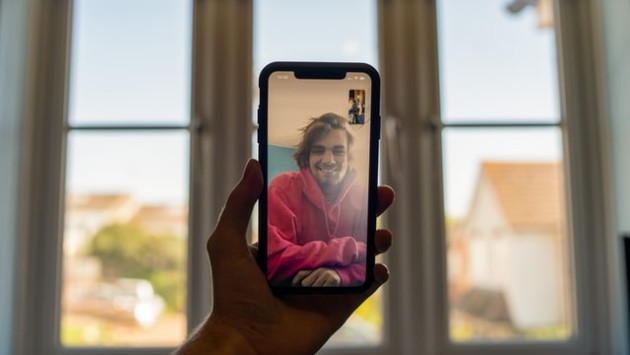 Here are some things you can do to have a great video call as a participant:
Timeliness
Again, working from home does not mean you are exempt from the codes of conduct. To be early is to be on time and to be on time is to be late.
Meetings are scheduled, show up early.
It takes time for the host to admit members into the conference, and this is something that they may not be able to do when they are busy presenting.
If your conference does not need member approval, keep in mind how distracting it is for members to keep popping in and off the screen, forcing hosts to interrupt themselves to offer a greeting.
Mute
When you are not speaking, mute yourself. This is in the same category as reducing background noise -- it allows the main speaker to be more clear in their delivery.
Most applications have options where you can raise your hand virtually or send a chat if you would like to interject.
Addressing Your Colleagues
Since most conferences consist of two or more people, you will want to be sure to address your colleagues by their proper title when speaking. This way, there is less room for confusion.
In the same token, you will also want to introduce yourself or indicate who is speaking.
When too many people are speaking at once, it is difficult to keep track and allows for miscommunications, so remember that a video call or virtual meeting is different and requires more clarity when you speak.
Things to Avoid on a Video Call
While we have covered all the tips and tricks to making your virtual meetings successful, you will also want to be aware of the things you will want to steer clear from.
Having poor virtual meeting etiquette can lead to a poorly conducted meeting, miscommunications, and sometimes even a bad image on your end.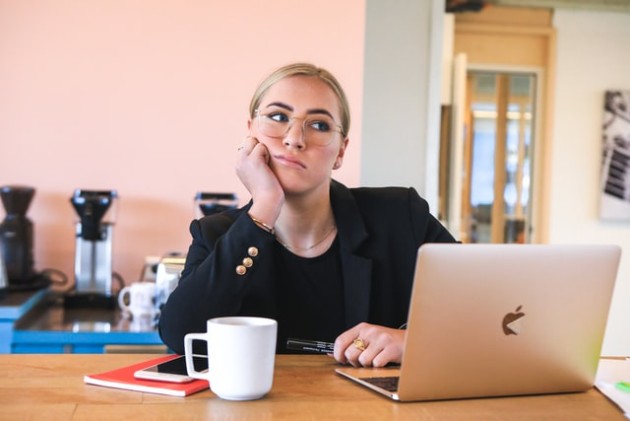 Distractions
This is self explanatory. Do not allow yourself to get distracted. Hosting a virtual meeting takes time from both the host and the participants. And when the camera is on, your colleagues can see what you are doing.
Be respectful of other people's time and even if you find the discussion less than earth-shattering, look attentive, nod occasionally, and appear respectful and engaged.
Leaving the Room
If the camera is not on, there are more temptations from behind the screen. In the same token, stay as engaged and involved as possible.
Remember, the meeting was called for a reason. Be engaged.
Unresponsiveness
While it is important to mute when you are not speaking, it is also important to interact with your meeting host and colleagues to be sure that everyone is on the same page and that the meeting is effective.
Reply when the host asks if you have questions, make use of the chat box, and turn your camera on when requested.
Final Thoughts About Teleconferencing Etiquette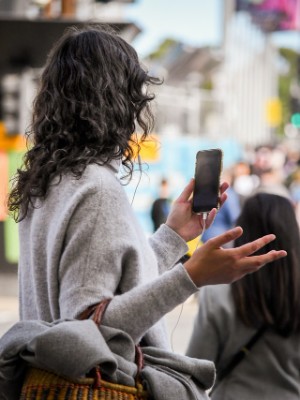 Virtual meetings have rapidly become part of our everyday work-from-home routines.
Being aware of proper teleconferencing etiquette, and doing your part to remain engaged, attentive, and professional is the best way to ensure successful conduct in online meetings.
At Suitebriar, we're convinced that Google Meet is the best video conferencing platform for small businesses.
If you're looking to take your video conference calls to the next level, we'd love to show you how Google Meet can work for you.