Work From Home Resources for the COVID-19 Outbreak
We have heard from a number of customers that they will be transitioning to a work-from-home status due to COVID-19.
Suitebriar is here to help your organization prepare to make the transition and as a Google Cloud Premier Partner, we have a few tips to help your team members remain connected, and productive while working remotely.
We hope these 5 tips and resources will help ease the transition to remote work for your organization. Please remember, if you need support during this time you can reach out to our experts at any time.
Take Advantage: Free Access to Advanced Hangouts Meet
All organizations now have free access to advanced Hangouts Meet video-conferencing capabilities, which were previously only available to Enterprise customers.
Starting this week through July 1, 2020, all G Suite customers have access to:
Larger meetings for up to 250 participants per call
Live streaming for up to 100K viewers within domain
Record meetings to Google Drive
These features are off by default, so if you're a current G Suite customer you will need to enable the advanced Meet features in the Admin console prior to use.
Remember to press record! Hangouts Meet meetings can be recorded and stored in Drive for anyone on your team that missed the event or had to jump off early. When your team members are working from home this is a powerful way to keep everyone in the loop and ensure nobody misses critical discussions and decisions.
Leverage Hangouts Chat & Rooms
Stay in touch with your teams and keep projects moving using Hangouts Chat & Rooms.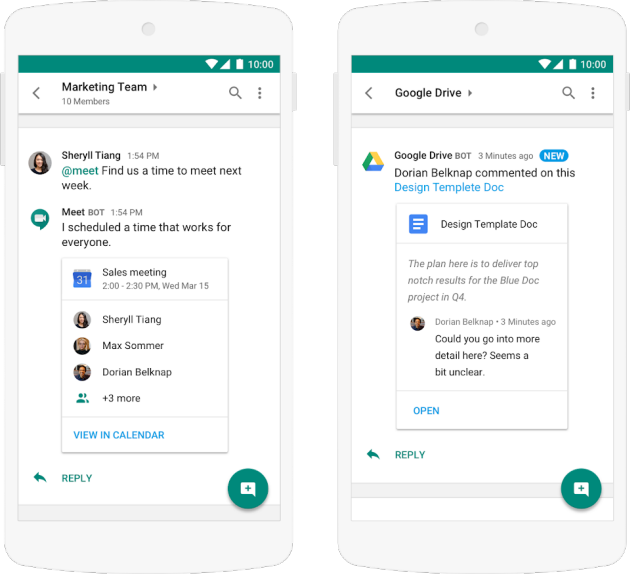 Create a room for each project or department and add the appropriate team members. All content is accessible quickly via Search, making getting and staying up to speed easy.
This is the easiest way for dispersed team members to collaborate and communicate in a way that closely resembles the office interactions they're used to.
Google Voice Add - On

Make and receive phone calls using a work number on any device, anywhere.
Google Voice is an add-on to G Suite that has become very popular due to its low cost and the way it dovetails with G Suite for businesses.
You can compare plans to find the Google Voice solution that best fits your organization. We think you'll find it a great option for remote workers and dispersed teams who are adjusting to the new normal of working from home.
Check Out Google's Latest Article
Be sure to read Google's best practices for fostering collaboration and remaining productive while working from home.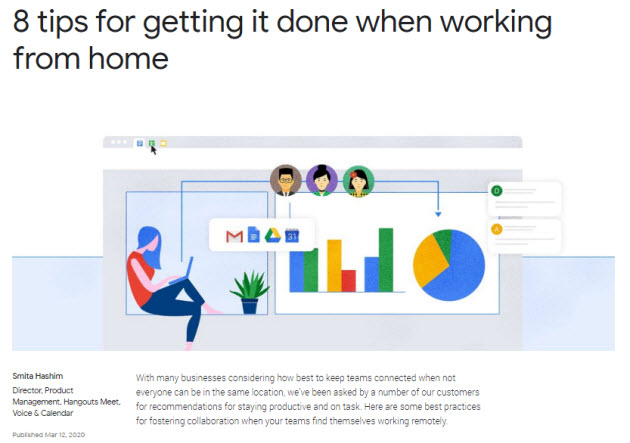 Keep your team connected and organized, and share this blog article as a resource that will motivate your team to embrace and thrive in their new circumstances!
Provide a Secure Platform with Chrome Enterprise & Devices
Chrome Enterprise is a modern, secure platform that empowers a remote workforce, allowing employees to be productive from any location and providing IT with the ability to manage devices remotely. Be sure to check out the 10 best practices to enable a remote workforce with Chrome Enterprise created by Google to help IT Admins with the transition.
Get your FREE Remote Work Success Guide

Could you use more tips and tools to support and empower your distributed workforce?

In this 5-step guide, you'll uncover some of my top tips to add value to your remote team TODAY.